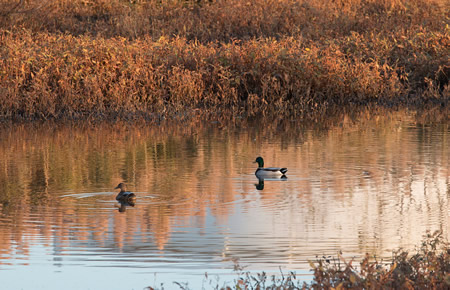 Monroe Energy's commitment to health and safety extends to the environment. We comply with all federal Environmental Protection Agency (EPA) and Pennsylvania Department of Environmental Protection (DEP) regulations. We also use the latest technology to minimize environmental impact.
Here are some of the ways Monroe Energy is protecting the environment:
Energy efficiency — We regularly explore and implement techniques that enhance our energy efficiency and minimize our environmental footprint.
Wastewater — Our Advanced Wastewater Treatment Plant (AWWTP) treats various sources of water from the refining process. After treatment, the discharged water is cleaner than it was when it came into the refinery.
Water conservation — We have several projects in the design phase that will substantially reduce our water use.
Emissions — The white cloud seen coming from our main stack is simply water vapor, i.e. steam.
Recycling — We have a company-wide initiative designed to minimize landfilling.

Throughout the refinery, we adhere to a single-stream recycling program for paper, plastics, aluminum, cardboard, tin, steel, and glass.
As we continually improve every aspect of the physical plant, we recycle blacktop, concrete and similar materials.
We donate used computers and other electronics to a charitable organization that refurbishes them for distribution and reuse.

Product lifecycle — Although we are focused on jet fuel production, our refinery produces a wide range of products from crude oil. Every product and byproduct from our process is useful — from hydrogen to the heavy bunker fuel oil that is used in the shipping industry.